Friday, 13/01/2017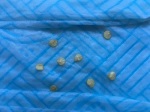 Do you think that you haven't got the necessary propagation setup to germinate chilli and pepper seeds successfully?
Then think again, our seed packets and a nice warm spot are all you need.
Friday, 30/12/2016
If the storage of all seeds is done correctly, then there is absolutely no reason why they shouldn't last for a number of years.....
NEW! Nematode Adult Vine Weevil Trap
Finally a product that enables us to offer a season long approach to vine weevil in the garden.

Nematop is a unique method of controlling adult vine weevils in and around the garden and vegetable plot. This biological control is effective, sustainable and very simple to use. Just place the trap gel side down below the affected plants. Adult vine weevils that hide during the day under the trap become infected with nematodes and die within a few days.

The Weevil Stop Trap can be used from the beginning of May until the end of September.

Previously, the nematodes we have offered have only targeted the vine weevil larvae, and were best applied during the spring and summer. Now we have a chance to target the adult Vine Weevil before it lays the eggs that hatch into the larvae that are so destructive to your gardens.

Beetroot Chioggia




Chioggia is a traditional Italian beetroot with red and white rings.....

Average Contents : 200 seeds

Only:

£0.99 £0.29

| | | |
| --- | --- | --- |
| | | In stock |




Kohl Rabi Delicacy White




Delicacy White is an early green variety, with very crisp white flesh.....
Average Packet Contents : 250 seeds

Only:

£1.15 £0.29

| | | |
| --- | --- | --- |
| | | In stock |




Lettuce Saladin




Saladin is the standard iceberg variety, producing fairly dense.....

Av. Packet Contents : 500 seeds

Only:

£0.89 £0.29

| | | |
| --- | --- | --- |
| | | In stock |




Marrow Bush Baby




Marrow Bush Baby was bred to satisfy demands for.....

Packet Contents : 10 seeds




Only:

£1.29 £0.29

| | | |
| --- | --- | --- |
| | | In stock |



Basil Seeds - Sweet (Genovese)




Genovese is renowned for its fragrance and is the traditional basil used in pesto.....

Average Contents : 500 seeds

Only:

£0.89

| | | |
| --- | --- | --- |
| | | In stock |




Beetroot Pablo




Pablo is suited to early, maincrop and late sowings. It is a high quality.....

Average Contents : 200 seeds

Only:

£0.99

| | | |
| --- | --- | --- |
| | | Sorry, we are currently out of stock |




Broccoli Rudolph




Rudolph is a high yielding open pollinated variety that you.....

Average Seed Contents: 90 Seeds


Only: £1.15

| | | |
| --- | --- | --- |
| | | Sorry, we are currently out of stock |




Carrot Chatenay Red Core




Chatenay Red Core is regaining popularity due to its exceptionally.....

Av. Packet Contents : 500 seeds




Only:

£0.79

| | | |
| --- | --- | --- |
| | | In stock |




Cauliflower Rafale




Rafale is a good compact variety with very uniform, pure white curds.....

Seed Packet Contents: 20 Seeds

Cropping: Autumn




Only:

£1.49

| | | |
| --- | --- | --- |
| | | In stock |




Chinese Cabbage Wong Bok (Napa)




Produces large, barrel shaped heads, with crisp light green.....

Av. Packet Contents : 400 seeds

Type: Chinese Cabbage, Summer

Only:

£1.15

| | | |
| --- | --- | --- |
| | | In stock |




Kale Nero Di Toscana




Nero di Toscana is an Italian type of curly kale sometimes known.....

Average Contents : 250 seeds

Only:

£0.99

| | | |
| --- | --- | --- |
| | | In stock |




Lettuce Little Gem




Little Gem is a compact small cos type with tight hearts and a.....

Average Contents : 500 seeds

Only:

£0.89

| | | |
| --- | --- | --- |
| | | In stock |




Mange Tout Sweet Horizon




A high quality, heavy yielding snow pea type.....

Average Contents : 150 seeds




Only:

£1.29

| | | |
| --- | --- | --- |
| | | In stock |




Mizuna




A very prolific cropper, which will reform after cutting.....

Average Contents : 350 seeds

Only:

£0.99

| | | |
| --- | --- | --- |
| | | In stock |




Salad Leaves Mesclun Mixed




Mix of Lettuce varieties suitable for use as a cut and come.....

Average Contents : 1000 seeds




Only:

£0.99

| | | |
| --- | --- | --- |
| | | Sorry, we are currently out of stock |



Latest Customer Variety Reviews