Latest Blog Posts...
Friday, 05/07/2019
Thursday, 11/04/2019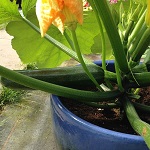 Not everyone has a large garden, an allotment, a vegetable plot to grow vegetables.
That doesn't mean you can't still grow a few home-grown, fresh vegetables when you want them. If you have room for a pot, grow bag, or even a window box.of any size then there is nothing to stop you from having a go at growing your own.

Basil Seeds - Sweet (Genovese)




Genovese is renowned for its fragrance and is the traditional basil used in pesto.....

Average Contents : 500 seeds

Only:

£0.89 £0.29

| | | |
| --- | --- | --- |
| | | In stock |




Chive Seeds





Av. Packet Contents : 500 seeds

Only:

£0.89 £0.29

| | | |
| --- | --- | --- |
| | | In stock |




Coriander Cruiser




Best Coriander for growing in Pots and Containers.....

Av. Packet Contents : 300 seeds

Only:

£0.99 £0.29

| | | |
| --- | --- | --- |
| | | In stock |




Parsley Seeds Plain Leaf





Av. Packet Contents : 300 seeds

Only:

£0.89 £0.29

| | | |
| --- | --- | --- |
| | | In stock |



Broad Bean Super Aquadulce




Very popular, the standard variety for overwintering.....

Average Contents : 60 seeds




Only:

£0.99

| | | |
| --- | --- | --- |
| | | In stock |




Garlic Solent Wight




The best garlic in terms of overall eating and keeping quality.

November to January planting best but crops well from end March planting.

Only:

£2.49 £1.99

| | | |
| --- | --- | --- |
| | | In stock |




Onion Kelsae




Kelsae is the legendary show bench variety that is used.....

Average Contents : 120 seeds




Only:

£4.00 £3.80

| | | |
| --- | --- | --- |
| | | Sorry, we are currently out of stock |




Pea Douce Provence




Can be sown November, or early Spring for early cropping.....

Average Contents: 200 Seeds




Only:

£0.99

| | | |
| --- | --- | --- |
| | | In stock |




Pea Meteor




Meteor is a superb dwarf variety for exposed plots and container.....

Approx Seed Count: 200 Seeds




Only:

£0.99

| | | |
| --- | --- | --- |
| | | In stock |




Spring Onion Guardsman




Guardsman is a F1 Hybrid and probably the best salad type for later sowings.....

Average Contents : 500 seeds




Only:

£1.39

| | | |
| --- | --- | --- |
| | | In stock |




Sweet Pea Air Warden




Air Warden has stunning scarlet - cerise flowers.....
Average Packet Contents : 40 seeds

Only:

£1.15

| | | |
| --- | --- | --- |
| | | In stock |




Sweet Pea White Ensign




White Ensign produces clean, crisp pure white blooms.....
Average Packet Contents : 40 seeds

Only:

£1.15

| | | |
| --- | --- | --- |
| | | In stock |



Latest Customer Variety Reviews