Welcome to SimplySeed.co.uk.
The UK is a nation of gardeners – from simple window boxes and patio tubs through to vegetable gardens and allotments, we have been making the most of our variable weather and small gardens to produce the most outstanding crops and flowers for hundreds of years. Here at Simply Seed, we see ourselves as your first step towards creating the garden of your dreams, by supplying simply the best seed available, at the best prices and of course, with the most professional and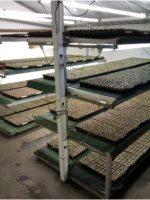 knowledgeable customer service.
50 years in the business
As a family run business, we have been in the agriculture / horticulture industry for more than 50 years. From our early days we have supplied the wholesale markets, however with the advent of the Internet, we are have been offering seed to the public for a number of years and it is a side of our business that continues to grow. We now produce more than one million plants each year at our nursery, all grown from the very same seed we supply to you.
Why choose Simply Seed?
As a company that literally thrives on having a great reputation, we believe our seeds to be the very best available. Our team continually updates our range with the latest varieties and we carefully follow the latest trends to ensure that we are offering you exactly that you want from season to season. However we also know that it isn't just about the seed, it is about the final product - the tastiest vegetables or the most beautiful and abundant flowers.
As a Defra licensed packer of seeds, we fully understand how important it is that your seeds reach you in pristine condition – ready for sowing. We think that you will love the effort we put into offering value that helps us stand above the rest:
Your seeds will arrive in small packages to avoid wastage
We concentrate on the quality and value of the seed and not on flashy or gimmicky packaging or advertising
Our seeds come from the very best breeders – using our ability to buy at wholesale rates to offer you the best prices
We use the very same seeds we sell to you – that is how much we believe in the quality of our seeds.
We offer more choice and we are constantly growing our range
The customer experience
Of course, the customer is the person who is most important to us. We know that buying online can be hit and miss and that it is hard to know who to trust. As part of our commitment to you we offer secure online payments, fast delivery, and a website that is easy to navigate with a simple ordering process. Our aim is to get your seeds to you in the shortest time possible.
Take a look around our site and make your order today
As you can see, we are Simply Seed – we don't try to be anything we are not. Just a simple family run business, with a simple ethos and simple commitment to quality and service. How much more simple can it get?
----------
Now that you have learnt a little bit about where your seeds are going to come from, please feel free to browse our online store and order from a wide range of quality seeds available for mail order.
Please note: we do not have a retail shop on our nursery. Thank you.