1 Comment
Friday, 17 January 2020 |
SimplySeed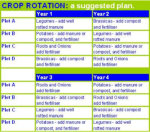 To achieve a crop rotation on a vegetable plot it is a good idea to split the plot in three or four....
8 Comments
Tuesday, 3 July 2018 |
SimplySeed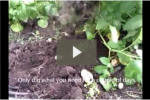 It's one of those questions that every new grower asks - "When are my potatoes ready for harvest??'
Watch the video and find out.....
1 Comment
Wednesday, 17 January 2018 |
SimplySeed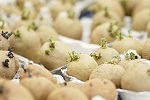 Is chitting seed potatoes really necessary?.....
18 Comments
Friday, 13 January 2017 |
SimplySeed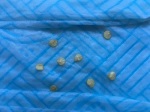 Do you think that you haven't got the necessary propagation setup to germinate chilli and pepper seeds successfully?
Then think again, our seed packets and a nice warm spot are all you need.
10 Comments
Friday, 30 December 2016 |
SimplySeed
If the storage of all seeds is done correctly, then there is absolutely no reason why they shouldn't last for a number of years.....
Friday, 23 January 2015 | SimplySeed
Whilst at SimplySeed all seed potatoes are stored in optimum conditions. Once out of store and in warmer conditions dormancy will be broken and the shoots will start to grow.
This sprouting is natural, however a number of steps can be taken to slow down the process.....