Early Seed Sowings - Week 2
Friday, 11 January 2013 | SimplySeed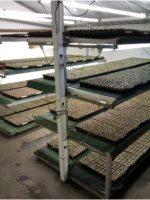 Here at SimplySeed we have been sowing a few of the slower growing varieties to get us started, we thought given that you are all budding growers you'd be interested to follow a few of the in's and out's.
Now we don't encourage everyone to sow at the same time as ourselves, mainly because we have some pretty impressive germination factilities that allows us to bring plants on in optimum conditions, enabling us to get an early sowing in, but we also have fully heated greenhouses for growing on afterwards.
These pictures show a 'corner' of the germination room with lit shelving that we use for the more difficult varieties. It's not all like this, easier items are stacked tray on tray then moved straight out to the greenhouses just as they are showing. Fully loaded we can hold the best part of 500,000 plants in the room if needed.
All these seeds are from the same batches you will receive in our packets. We'll also be following some of these items in later posts as we grow them onto maturity.
| | |
| --- | --- |
| | |
| Geraniums Seeds - This week we have sown the best part of 10,000 geraniums. As you can see germination is good, and anything less than 96%, we are not really happy with. We don't usually hold these in the germination room, they tend to go straight out, but given the snow and frosts we are currently getting, we are reluctant to turn the dial up on the heating!! | Chilli Seeds - The other major sowing this week has been to start some chillies off, theres approximately 4000 plants in the first batch with another 4 batches to sow. We tend to place these on the top shelves where they benefit from being under the lights, and would expect to see most through in 10 - 14 days, after which we'll move them out and give them a good feed with Root!t First Feed. |
Remember if you are going to sow these items - Geraniums and Chillies are not hardy, you'll need to provide good frost protection.
Links to products mentioned in this Post: Root!t First Feed
All blog content on this page is copyright of Simplyseed and is not to be reproduced without prior written permission. ©