Seed Sowing - Week 7
Thursday, 14 February 2013 | SimplySeed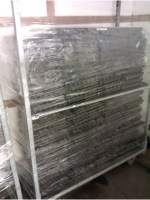 At SimplySeed we have been been busy sowing and this week has seen the start of some of the early summer seeds, such as verbena, ageratum, salvia, and nemesia.
Now, we are are still not encouraging everyone to get out there and start sowing. Remember, we have some pretty impressive germination factilities that allows us to bring plants on in optimum conditions, enabling us to get an early sowing in. But more importantly, we also have fully heated greenhouses for growing on afterwards. For most of you sowing these varieties in March and April when it is warmer, will be fine.
The picture to the left shows a batch of 13000 Geranium plugs in the germination room. As we sow them, they are stacked tray on tray then moved straight out to the greenhouses just as they are begining to show.
All these seeds are from the same batches you will receive in our packets. Below are some of our previous sowings.
| | |
| --- | --- |
| | |
| Geraniums from Seeds - These are the plants that were mentioned in the week 2 blog post. Most now showing their second true leaf with some nice roots which is more important. | Antirrhinums from Seeds - This is a batch of plants that was sown at around week 3. We are after nice full trays, so we tend to double sow them for ease when potting on. |
| | |
| --- | --- |
| | |
| Chillies from Seeds - This is the week 2 sowing. They have some nice roots and will start to put on top growth as the light levels improve. | Tomatoes from Seeds - The first batch of tomatoes just strating to show their true leaves. Once this happens they start to grow fast. |
| | |
| --- | --- |
| | |
| Gazanias from Seeds - Probably the perfect tray of seedlings - 240 seeds = 240 plants, what more can you ask for? | Senetti Plug Plants - The first of the plug plants arrived this week. Senetti provide fantastic early spring colour in containers before the summer bedding arrives. |
Remember if you are going to sow these items - The majority of Summer Bedding and Chillies and Tomatoes are not hardy, you'll need to provide good frost protection.
Have you sown anything yet? Leave a comment below and tell us what....
Links to products mentioned in this Post: Senetti Plug Plants
All blog content on this page is copyright of Simplyseed and is not to be reproduced without prior written permission. ©