Rhubarb, Rhubarb, Rhubarb…
Saturday, 2 February 2013 | SimplySeed
Forcing Rhubarb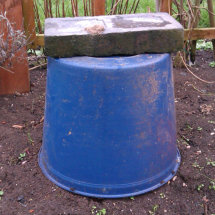 One of the first treasures of the year is forced rhubarb. Forcing rhubarb makes it ready earlier, the stems are sweeter and usually don't need peeling. I don't have a greenhouse or indoor space to force them indoors, so I just use the old terracotta chimney pots that came off my roof when our chimneys were repaired a few years ago.
You can buy some lovely terracotta forcers designed just for the job, they look very attractive if you have the budget for them. If not, any large pot or container will do the job. Put the pot over the stems as soon as the first shoots appear above ground from the crown. Add some straw or hot manure around the crown.
The timing of the shoots emerging depends on your location and the weather, but mine started to shoot at the end of December when it was fairly mild (I'm sure they are regretting that decision under all the snow now!). Then just put a brick on top if you're using a plastic pot to secure it and that's it. Leave in place until you have enough rhubarb to make something with.
Sometimes I can't wait that long and just pick a stem to dip into sugar. It's better not to force the same crown every year to give it a chance to recover. I've got four rhubarb crowns and I rotate the chimney pot covers every year so they get a chance to crop naturally every other year.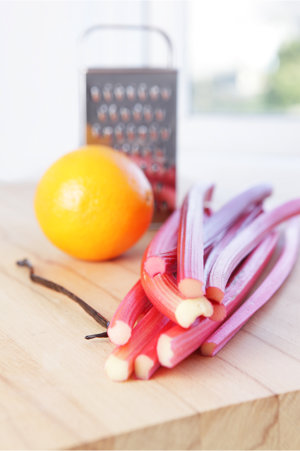 Rhubarb crumble is a classic recipe, delicious but hardly innovative. So, here's my favourite recipe for rhubarb – it's super easy and extra delicious if you make some shortbread to accompany it (I'll post a recipe for that when the lavender is in flower) and serve with a scoop of vanilla ice-cream.
Honey Roasted Orange Rhubarb
Serves 4
500g rhubarb – trimmed, washed and cut into 5cm/2inch lengths
1 orange
1 vanilla pod
6 tablespoons clear honey
Pre-heat the oven to 150°C / gas mark 3, then find a baking tray or dish that you can fit all the rhubarb into in a single layer.
Grate the zest from the orange making sure you don't get any of the bitter white pith. Then squeeze all the juice from the orange into the baking tray and add the zest. Split the vanilla pod and scrape the seeds into the orange juice (I find the end of a teaspoon handle is perfect for this job).
Add the sliced rhubarb to the orange juice and vanilla, make sure it's all in one layer. Trickle the honey over the top and mix it all gently.
Cover the baking tray with foil and cook for about 40 minutes (until the rhubarb is tender - the fruit should keep its shape though, not cook to a mush). Serve with a blob of vanilla ice-cream and a shortbread biscuit on the side. Yum!
All blog content on this page is copyright of Simplyseed and is not to be reproduced without prior written permission. ©