Is it Spring Yet?
Wednesday, 6 March 2013 | SimplySeed
I noticed this week that I can see the garden while eating my breakfast… so the days are getting longer, hooray!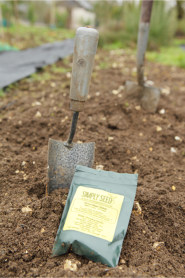 It has still been very cold at night, I was scraping ice from the windscreen earlier this week and the car temperature gauge read -4 °C. So, while the longer days fill me with a longing to start sowing I must try to curb some of my enthusiasm. It's easy to get carried away when you get a period when days are sunny and relatively warm. Last year I lost several pumpkin seedlings in the cold frame in May, so let's not get too excited just yet.
Having said that, I did sow some very early peas and broad beans today. I covered the soil with some agricultural fleece to help warm it up a week ago. Last season I grew autumn planted broad beans they all germinated and looked wonderful until the unusually cold spell we had arrived. They were frozen solid for several weeks and I'm afraid when they thawed out I had lost all but one of the plants. My area is usually fairly mild during the winter, but with hindsight I ought to have protected them as the last few winters have been very cold. This year I'm hoping to have more success with the Stereo variety that can be sown now.
I think I'll give them a little protection with fleece though until the end of March, just in case! I like to eat broad beans when they're very young and the beans are still small and soft. I think they taste nicer like this, and are much less work than having to double pod the older tougher ones (by boiling the pods, removing the outer pod, then slipping the skin off each individual bean)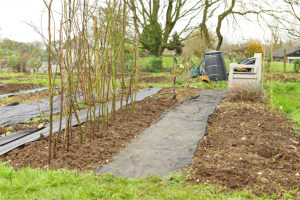 I also planted some very early peas today. I love peas and I like to make sure we have a constant supply by planting a succession of different varieties. The excellent Feltham First variety can be planted early. Here's the row I planted today, I always use hazel twigs as pea sticks, they're very sturdy and have lots of twiggy bits that the pea shoots can grab onto for support as they grow. They have the added bonus of being free (and I think they look nice too).
If you've never tasted a pea picked within an hour, you don't know what you're missing! One of my favourite summer pastimes is shelling peas to eat that day. Here's me last year, happily podding peas for lunch in my dining room.

Because fresh peas and broad beans are such a summer treat, I like to make them the star of a recipe to really appreciate them.

Pea, Bean and Bacon Risotto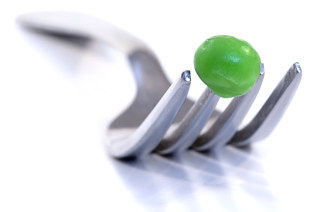 Serves: 2 / 3
175g fresh broad beans (that's about 1kg un-podded weight )
175g fresh peas
1 chicken stock cube
1 onion, finely chopped
1 clove of garlic, crushed
70g pancetta, cubed
1 tablespoon of olive oil
250g risotto rice (I prefer Carnaroli, but Arborio is fine too)
75ml dry white wine
3 tbsp grated Parmigiano Reggiano cheese
25g butter
small handful of fresh chopped mint leaves
Add the beans and peas to a pan of simmering water and cook for 3 minutes. Drain but reserve the cooking water. Use this water and the stock cube to make up 1.2 litres of stock, and keep on a very gentle simmer in a pan.
Heat the oil in a pan over a medium heat and cook the chopped onion and pancetta until soft and golden. Add the garlic and cook for another minute or so. Add the rice and stir for 1 minute making sure all the grains are coated in the oil. Add the wine and stir well and cook for another 30 seconds. Gradually add the stock – one ladleful at a time- keep stirring until each ladleful has been absorbed before you add another. This will take 15–20 minutes.
When the rice is almost tender add the cooked beans and peas and cook for a few minutes, just enough to warm the vegetables. Take the pan off the heat and stir in the cheese, butter and chopped mint. Season to taste with salt and black pepper. Delicious served with crusty bread and a glass of chilled white wine.
How do you support your Beans and Peas? Leave a Comment below and help others.
Links to varieties mentioned in this Post: Broad Bean Stereo, Pea Feltham First.
All blog content on this page is copyright of Simplyseed and is not to be reproduced without prior written permission. ©