First Time Growing Parsnips
1 Comment
Sunday, 11 November 2012 |
SimplySeed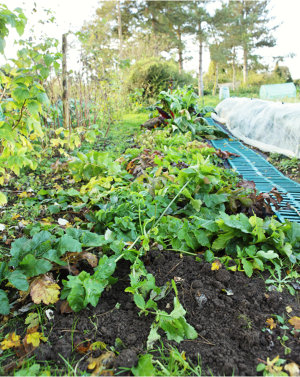 I grew parsnips for the first time this year. I'd always been a bit put off trying to grow them from the stories about how difficult they are to germinate. I don't know if it was beginner's luck, but every seed I planted (I used the Gladiator variety) germinated. Actually, even one that I didn't plant but must have dropped on the soil between my allotment and my neighbour's plot germinated. While I was sowing the seed, back in chilly March this year, my allotment neighbour mentioned to me that he always plants two seeds in one hole because he assumes one will fail. I thought this sounded wasteful (and a bit defeatist) and politely nodded while ignoring his advice. I'm glad I did, because every single one of my perfectly spaced seeds is now a huge parsnip.
My soil is very flinty and chalky and I didn't want the roots to hit a stone. So before I sowed the seeds I dug down a fair way to make sure I'd taken out the big lumps of flint. I also warmed the soil up for a few weeks by covering it with some permeable black agricultural fleece. Here'smy parsnip row, the leaves were very bushy and upright during the summer but since the frosty weather has set in they're a little less lush. I'll leave them to stand in the ground over winter until we've eaten them all. I wish I'd planted more!
I love all root vegetables, but parsnips especially. No Sunday roast dinner is complete without some sticky roasted parsnips but you can do so much with them, from mashing and steaming to delicious soups. Their sweet, fragrant flavour is a perfect match for beef and lamb. I also use them in a yummy vegetarian stew that's lightly spiced with garam masala.
They are an infinitely useful autumn/winter vegetable, so it's hard to pick just one recipe to share. But pick I must, so this is one of my favourite ways to enjoy them (I promise to share more soon). I'm making this one today as a side dish to accompany a hearty beef stew that's currently bubbling away onthe hob. This is the parsnip I dug up this morning to use. I'm amazed by the size of them, but although they're enormous, they aren't at all tough or woody. I'm definitely going to grow more next year.
Parsnip and Potato Puree Recipe

Serves 6

400g parsnip, peeled and cut into small chunks
450g potato, peeled and cut into small chunks
2 tablespoons of prepared horseradish sauce (a little more if you like it hot, a little less if you don't!)
2 tablespoons milk
Salt and freshly ground black pepper to taste

Put the chopped potatoes and parsnips in a large pan, cover with lightly salted water and bring to the boil. Reduce the heat and simmer until the vegetables are tender (probably about 20 minutes but it depends on your chunk sizes). Drain well.

Tip into a food processor and blitz until smooth, then add the milk and the horseradish, saltand pepper and blitz again. Serve immediately. If you're pushed for time, or don't have a food processer you can use a little less milk and just mash it all together with a potato masher. It won't be quite as "posh" as the puree, but tastes just as good and creates less washing up. Do make sure there are no lumps though!
Links to varieties mentioned in this Post: Parsnip Gladiator
All blog content on this page is copyright of Simplyseed and is not to be reproduced without prior written permission. ©