Latest Blog Posts...
Friday, 17/01/2020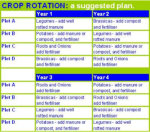 To achieve a crop rotation on a vegetable plot it is a good idea to split the plot in three or four....
Monday, 02/12/2019
The main advantages of growing tomatoes from blight resistant seeds is you are able to grow and plant in areas of the garden or allotment that have previously been infected by the fungus in previous years....
Customer Reviews
Vivaldi Potato Seed
Average Rating (

4

Reviews):
Saturday, 13 April 2013 | Sharon
These are the best potatoes ever. I've not grown them before but always buy them from the supermarket
Tuesday, 29 January 2013 | Tim
I grew these in containers and recommend you pick them when egg sized for flavour. Some did grow larger but tended to be less flavored. Will be ordering them again
Saturday, 24 November 2012 | Deborah
I first tried these potatoes from a supermarket before they were on sale as seed potatoes for the gardener. They were so goody the moment they were available I bought them and have been growing them ever since. They are easy to grow, in the ground, in a raised bed and in a container though you have to have patience to get them to a significant size (needless to say, I don't!) The flavour is second to none either baked, boiled or roasted and are very creamy - as the blurb says, you don't need any moistening agents at all. I would highly recommend them.
Customers who bought this item also bought: