Latest Blog Posts...
Friday, 17/01/2020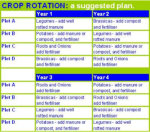 To achieve a crop rotation on a vegetable plot it is a good idea to split the plot in three or four....
Monday, 02/12/2019
The main advantages of growing tomatoes from blight resistant seeds is you are able to grow and plant in areas of the garden or allotment that have previously been infected by the fungus in previous years....
Customer Reviews
Pink Fir Apple Potato Seed
Average Rating (

3

Reviews):
Wednesday, 9 January 2013 | Helen
Recently had to give up my allostment and am trying to cultivate a thoroughly unsuitable small piece of land at the top of my garden.
I grew Pink Fir Apple every year. Lovely flavour and seem to be bomb proof! They seemed to hold in the ground, despite snow (didnt have the torrential rain of 2012) and would still find some after xmas!!
Sunday, 6 January 2013 | Adele
Love these potatoes - funny looking knobbly potatoes, but a great new potato taste.
Customers who bought this item also bought: