Latest Blog Posts...
Friday, 17/01/2020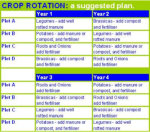 To achieve a crop rotation on a vegetable plot it is a good idea to split the plot in three or four....
Monday, 02/12/2019
The main advantages of growing tomatoes from blight resistant seeds is you are able to grow and plant in areas of the garden or allotment that have previously been infected by the fungus in previous years....
Customer Reviews
Pentland Javelin Potato Seeds
Average Rating (

3

Reviews):
Friday, 30 January 2015 | Jenny
there came in very good order, started to short. cant wait to grow.
Wednesday, 10 July 2013 | Michael
I grew three tubers per bag. Mixed a little fertiliser with the compost before planting. These were placed in an unheated greenhouse and watered as necessary. The bags were brought out when all frosts had passed. Harvested late June.
Fantastic crop. Really clean and disease free, the bags were bulging.
Tuesday, 22 January 2013 | Amanda
Grew these for the first time last year. Even though the weather was bad they did very well. The potatoes were smaller than they should have been due to the weather but the plants produced plenty of tasty potatoes that didn't disintergrate when steamed. Would highly recommend.
t
Customers who bought this item also bought: