Welcome to SimplySeed.co.uk.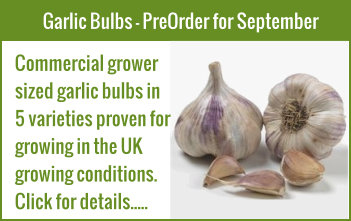 We've selected the best seed varieties.....so you don't have to!
Sowing Seeds in September.
With the exception of a wide range of salad varieties, there is not much seed you can sow in September that you will be harvesting this year. However consider a the late brassicas, such as Mizunas, Mibunas and Pak Choi, that you will be able to mix in will the salad leaves you can sow.
Late September / October is the main time to start planting Autumn Onion sets, Prepare the soil first and add a general purpose fertilser so see them through the winter, then plant the onions with thier tips just below the surface about 10cm part.
September is also the time to look at preordering your garlic bulbs for delivery for planting October onwards.
"What seeds can i can sow in September?".....click here to find out.
Please bookmark our site, after comparing our prices with those in your local garden centre, we think you may wish to return!!