Latest Blog Posts...
Wednesday, 29/07/2020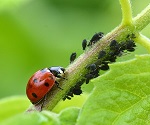 Nature always provides a means of keeping a balance and it's no different in the garden. There are many insects that you should actively encourage to take up residence in your garden.....
Saturday, 27/06/2020
Luckily, growing sweetcorn from seed is a straight forward affair requiring little technical knowledge.
Customer Reviews
Osprey Potato Seed
Average Rating (

1

Review):
Friday, 12 October 2012 | H
This year I grew about 10 each of 14 different types of potato on my allotment to see if my standard core 3 (Accent, Desiree & Charlotte) could be bettered. This has been (2012) a difficult potato year: floods, drought & blight - not to mention the good old wireworm, slug & eelworm. My overall winner for the best yield & most unattacked variety was Osprey. I never give a top rating for anything in case something better comes along, but Osprey was close. It is a salad or boiler so I shall stay with Desiree for roasting & mashing. As yet I don't know how good a keeper it is but I'm betting that it can't be as good as Desiree or Lady Balfour. If it's not disastrous then I will definitely always be growing Osprey in the future.
Customers who bought this item also bought: