Latest Blog Posts...
Friday, 17/01/2020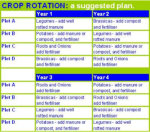 To achieve a crop rotation on a vegetable plot it is a good idea to split the plot in three or four....
Monday, 02/12/2019
The main advantages of growing tomatoes from blight resistant seeds is you are able to grow and plant in areas of the garden or allotment that have previously been infected by the fungus in previous years....
Customer Reviews
Osprey Potato Seed
Average Rating (

1

Review):
Friday, 12 October 2012 | H
This year I grew about 10 each of 14 different types of potato on my allotment to see if my standard core 3 (Accent, Desiree & Charlotte) could be bettered. This has been (2012) a difficult potato year: floods, drought & blight - not to mention the good old wireworm, slug & eelworm. My overall winner for the best yield & most unattacked variety was Osprey. I never give a top rating for anything in case something better comes along, but Osprey was close. It is a salad or boiler so I shall stay with Desiree for roasting & mashing. As yet I don't know how good a keeper it is but I'm betting that it can't be as good as Desiree or Lady Balfour. If it's not disastrous then I will definitely always be growing Osprey in the future.
Customers who bought this item also bought: