Winter Cabbages and Kamikaze Pigeons!
Monday, 7 January 2013 | SimplySeed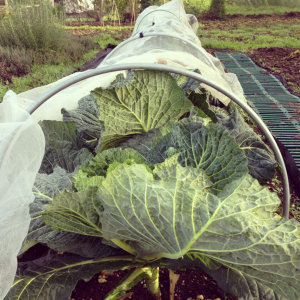 I grow my cabbages under a fine mesh insect netting. It's UV resistant but doesn't significantly reduce light or airflow. I use sturdy aluminium hoops in rows to support the material, and use the many huge lumps of flint I regularly unearth in the allotment to weigh it down at the sides.
I prefer this ersarts arrangement to pegging it with stakes as I find it easier to uncover to weed the row. A row of securely pegged mesh will give me just the excuse I was looking for not to weed. The fine mesh of the material keeps the insect pests out while the seedlings are small in late summer. It also affords the plants some cold weather protection when they're bigger. It also bamboozles the wood pigeon hoards.
I ran out of the mesh material this year and used some normal netting to cover my cauliflowers and broccoli. Somehow the pigeons have developed a kamikaze system of throwing themselves on the top of the netting to flatten it enough to get the plants in range of their hungry beaks. Grrr. I'll be buying more insect mesh material for next year.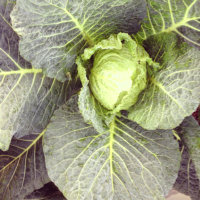 These are Tundra F1, one of my favourite cabbages. They stand well over winter and a row of these will see us through the winter. As there are just the two of us and the soil on my allotment seems to produce huge football sized cabbage heads, it can take us a few days to get through each one.
This has driven me to find lots of different things to do with cabbage to avoid groans of "not cabbage again!" I often stuff the larger outer leaves with a variety of ingredients, but I'll save that recipe for another time.
Here's a great way to make the last unused bits of cabbage a bit more interesting. It's even better if you've got more than one variety, or some Brussels sprouts or chard to use, but it's still delicious with just one cabbage variety. It's also a great way of using up the huge outside leaves that most supermarkets in the UK remove to make their produce look tidier. I think that's a real waste, those leaves are delicious!
Stir frying cabbage (or any vegetable) is a good way to cook them quickly to retain lots of the vitamins and minerals that you lose by boiling. I love this as an accompaniment to grilled meat, or as an entire meal with smoked tofu if you're having a non-meat eating day. If using smoked tofu, pat it dry with kitchen paper and fry until in the wok with the oil before commencing the recipe below. Keep it to one side, then add back into the pan with the cabbage right at the end.
Cabbage Stir Fry
Serves 2 as a side dish.
15ml/1 groundnut or sunflower oil
1 large garlic clove
2.5cm/1 inch piece fresh root ginger peeled and chopped (see tip below)
450g finely shredded cabbage leaves (one variety, or preferably a mixture including savoy, white, kale, pak choi or Brussels sprouts)
10ml/2 teaspoons soy sauce
5ml/1 teaspoon runny honey
5ml/1 teaspoon toasted sesame oil
15ml/1tablesppon sesame seeds, toasted (* see tip below)
*I seem entirely incapable of toasting sesame seeds without forgetting about them until the smoke alarm goes off. No matter how many times I give myself a stern talking to, once I've slid them under the grill I completely forget about them. I've talked to a few cooks who say the same, so I urge you to set an alarm to turn them after 3 minutes, and another alarm to take them out after another 2 minutes! I also find ginger much easier to deal with, and more economical to keep in the freezer. A big sharp knife cuts off what you need from the root, and the rest goes back in the freezer. It's easier to peel, grate/chop while it's still frozen.
Heat the oil in a wok or large deep frying pan. Add the garlic and ginger and cook for about 30 seconds. Add the cabbage and cook stirring for 4 minutes until it's tender but still retains some bite. Stir in the soy sauce, (add the previously fried smoked tofu if using) cook for another minute then sprinkle with the sesame seeds and serve.
Links to varieties mentioned in this Post: Cabbage Tundra
All blog content on this page is copyright of Simplyseed and is not to be reproduced without prior written permission. ©