The Winter Garden
Tuesday, 13 November 2012 | SimplySeed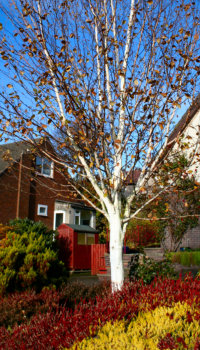 It is easy to have a beautiful garden in spring and summer, but a garden can be enjoyed right through the winter with a wee bit of planning, design and selection of the right trees, shrubs and bulbs. The winter garden takes centre stage from leaf fall till the end of March.
Plan the garden
Include ground cover including heathers, coloured stemmed shrubs and trees, flowering and scented shrubs and climbers and some early flowering bulbs.
Choose a spot that will catch the winter sun and make sure it is well drained, but not dry. Cultivate the soil, adding plenty of garden compost or other organic material to improve the soil structure and add humus. My winter garden is based on heathers, coloured stemmed trees and shrubs, winter flowering shrubs and climbers and a carpet of bulbs in layers to add and extend the interest well beyond the winter. Once you establish drifts of bulbs, soil cultivations can be very tricky if damage to bulbs is to be avoided therefore it is wise to top dress with a mulch of well rotted garden compost or compost from old tomato growbags, hanging baskets or tubs in winter after leaves have fallen but before the first bulbs begin to grow.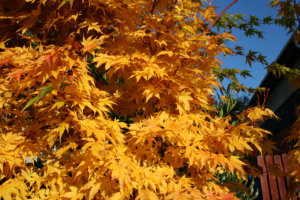 The winter season
The show begins when the trees and shrubs lose their leaves to reveal the brilliant red stems of Cornus sibirica Westonbirt and Mid-winter Fire, bright green stems of Kerria japonica and Leycesteria Formosa and the dazzling orange stemmed willow, Salix britzensis emerging from the ground cover of the black grass, Ophiopogon planiscapus nigrescens, and low growing heathers such as the white and pink flowering Erica carnea.
If you wish to try some grey stems look out a Rubus giraldianus, but treat it carefully as the small thorns can be quite vicious making it perfect for any vandal prone areas.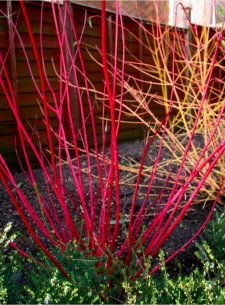 Specimen trees
Betula jaquemontia with pure white bark planted in a central position within a drift of gold and crimson heather, Calluna vulgaris Beoley Gold and Beoley Crimson can look spectacular. The heather garden must include drifts of winter flowering Erica carnea Springwood White and Springwood Pink.
I also recommend the Japanese maple Acer palmatum Sangokaku and although it is not cheap, it will not disappoint. After the vivid orange autumn leaves fall off the bright wine red stems are brilliant in sunshine.
Climbing plants and wall trained shrubs can be grown on all fences and walls to add beauty, colour, scent and a dark background. The winter flowering yellow Jasminum nudiflorum is superb at this time of year. Mine begins to flower in November and continues sporadically all winter every time the sun comes out for a few days.
Winter scent
For a strong scent try the winter flowering Viburnum fragrans or the variety V. bodnantense Dawn, but for a subtle perfume the yellow flowers of the Chinese Witch Hazel, Hamamelis mollis are very welcome. The latter also has excellent autumn colour.
Spring arrives in February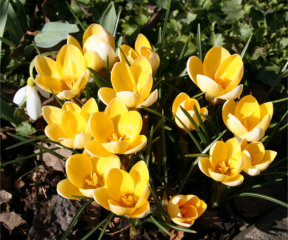 The winter garden would be incomplete without a heavy planting of spring flowering bulbs drifted in amongst the shrubs. The show starts in February with the Aconites and Snowdrops. I also underplant with crocus, but as these give their best display if they are given the freedom of the border, I time my cutting back of the Cornus and Salix to the end of March, just before the crocus start to flower. The Kerria often flowers at the same time, creating a spectacular show as the winter ends and spring emerges in a blaze of colour.
Prune Cornus and Salix right down to ground level or a few inches above ground. They will always grow up again.
Although this border has no impact in summer as the shrubs start to push up fresh young shoots, it is a perfect spot for my tall scented lilies which can rise above the foliage and give me plenty to enjoy in late summer.
All blog content on this page is copyright of Simplyseed and is not to be reproduced without prior written permission. ©