We have been busy adding quite a few new items to the SimplySeed website for 2016, some which are new to us, but most are brand new varieties for you to try in 2016, here's a quick run down.....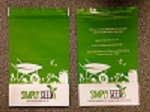 Also please note that your seed order this year will possibly arrive in 2 different packets as we upgrade to our new fully branded packaging.
It's important to realise, these are NOT new and old seed in the packets - we didn't start using the packets until a couple of days ago, all seeds packed in October to December will be in the older style packaging. As per usual all seeds sold for this coming season has been packed for this season. We couldn't justify chucking out 50,000 older style seed packets just so we could move to the new packets.
Sweetcorn F1 Wagtail
Sweetcorn F1 Wagtail is a maincrop 'super sweet' type (sh2). It will produce a good yield of bright golden coloured cobs around 20cm in length, with 16 - 18 rows of golden kernels.
With an exceptionally good sweet flavour and a medium to tall plant height. It is highly recommended. Wagtail has been bred for good performance in colder soils.
Go to page.... Sweetcorn Wagtail
Butternut Squash ButterBush
A British bred Butternut for containers and small gardens, Butternut Squash ButterBush is an early maturing variety producing small fruits on a compact plant bushy plant.
Ready to harvest when a light tan colour, it has a deep reddy orange flesh and good taste that store well if kept frost free.
Go to Page.... Butternut Squash ButterBush
Cabbage Storka
Cabbage Storka is a good white ballhead cabbage used for producing 1 - 3kg head sizes. Suitable for all plot sizes as can be grown at a low density per metre for larger heads, but is also ideal for planting closer together for smaller sized heads of around 1kg.
Typically matures after 130 days, so good for October / November Picking from a May sowing.
Go to Page.... Cabbage Storka
Chinese Cabbage Scarlette
This Chinese Cabbage is a new class of Chinese leaf with dark green / red outer leaves and an intense red / pinky heart.
Scarlette produces good sized barrel shaped heads - worth a try!
Go to Page.... Chinese Cabbage Scarlette
Cucumber Louisa
Cucumber Louisa is an all female parthenocarpic variety, producing a high yield of uniform dark green bitter free fruits. It is very early to crop and will deliver a good crop even under the hot conditions you get in a greenhouse.
Best for use in the greenhouse, the fruits can get up to 35cm in length, but are probably best pick smaller than that. Good resistance to Powdery Mildew.
Go to Page.... Cucumber Louisa
Cucumber Pony
Being parthenocarpic,Cucumber Pony is a prolific producer of snack sized fruits, best picked typically when they are 10cm long. The fruits have smooth skin and excellent flavour and texture.
Pony is most productive when grown in a greenhouse, but can be used for growing outdoors during the summer. It is an ideal variety for container / patio growing.
Go to Page.... Cucumber Pony
Mizuna Red Baron
Mizuna Red Baron has nicely serrated leaves in a classic Mizuna shape. The plant has an upright habit, with a consistent purple red colour that make this item an essential for growing for any mixed salad bowl.
A very prolific cropper which will reform after cutting, sow Mizuna seeds on a cut and come again basis.
Go to Page.... Mizuna Red Baron
Pea Early Onward
Pea Early Onward is a popular wrinkle seeded variety popular with gardeners and growers like. Growing to 60cm, it will need support.
Produces high yields of straight pods 8cm long, with 6-8 peas per pod. Can also be grown in containers.
Early Onward will crop around 10 days earlier than the standard onward variety.
Go to Page.... Pea Early Onward
Salad Leaves Mustard Mixed
A new salad leaf blend, Salad Leaf Mustard Mixed makes a colourful salad bowl addition.
The mix combines Mustard Red Frills and Red Zest, Pizzo, Red Lion and Green Frills.
This mix can be sown virtually all year round.
Go to Page.... Salad Leaves Mustard Mixed
Squash Crown Prince
Squash Crown Princess is an interesting F1 hybrid variety that is renowned for its eating qualities. Produces large steely grey fruits that can typically weigh up to 4kg each with a deep orange flesh.
Has a good keeping quality when kept cool.
Go to Page.... Squash Crown Prince
Tomato Olivade
Tomato Olivade produces medium size plum tomatoes that although will do best in the greenhouse, but can also be grown outside.
Has good flavour and can be used in salads, or in cooking sauces.
Good disease resistance.
Go to Page.... Tomato Olivade